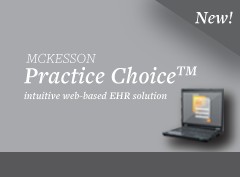 MAR Solutions, LLC and McKesson are proud to announce the release of McKesson Practice Choice™, a web-based, ONC-ATCB certified* electronic health record (EHR) and practice management (PM) solution. Inspired by small independent medical offices, McKesson Practice Choice was built to suit the specific demands of smaller offices, where health professionals need to keep the medical office running smoothly while maintaining patient focus.
The simplicity of this customizable system allows for a much shorter implementation period than other systems. This means less down time and less distraction from your patients' needs.
With little hardware needed, sign up today to begin using McKesson Practice Choice and start the process of attesting for Stage 1 Meaningful Use.
Take a quick look at McKesson's introduction to Practice Choice.
Complete Solution for One Low Price – $399/month/provider
Electronic Prescribing with Medication/Allergies including Drug to Drug interaction and Drug Allergy checks
Unlimited Inbound Lab Results Interfaces
Patient Portal
Access to 1 Inbound Lab Results Interface
Stage 1 Meaningful Use Measure Reporting
Clinical Quality Measure Reporting
Syndromic Reporting
Integrated Practice Management/Electronic Health Record Software
Scheduling
Wait List/Bump List
Real-Time Eligibility Verification
Batch Eligibility Verification
Chart Summary
Patient History
Vitals
Diagnosis and Procedure Tracking/History
Order Entry
Results Entry
Health Maintenance with Alerts
Documentation Library
Continuity of Care Document Publishing
Clinical Encounter Summary
Progress Notes featuring Smart Note Technology
Electronic Claims Processing
Automatic Electronic Remittance Posting
Internal Communications and Tasking Module
Clinical and Financial Reporting
For more information or a demonstration of Practice Choice, call MAR Solutions
today at (800) 499-7027, or email info@MARSolutions.com